About DFS
The Department of Forensic Science (DFS) is a nationally accredited, independent forensic laboratory system, established by Virginia law, that performs scientific analysis and examination of evidence in criminal matters as requested by state and local law enforcement agencies, medical examiners, and Commonwealth's Attorneys in Virginia, and as ordered by a court upon request of the defense. By law, DFS provides services to federal investigatory agencies to the extent its resources allow. DFS forensic scientists evaluate and analyze evidence, interpret results, and provide technical assistance, training, and expert testimony related to the full spectrum of physical evidence recovered from crime scenes and submitted for examination.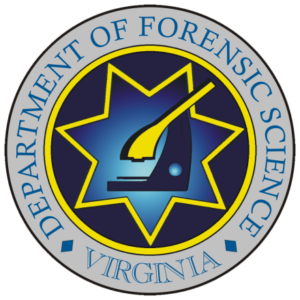 Mission and Values
The Department of Forensic Science's mission is to provide laboratory services in criminal matters in the Commonwealth of Virginia, support the criminal justice system with quality and timely services, and advance the understanding of forensic science in order to promote public safety.
The Department is committed to:
Quality
Integrity
Impartiality
Diversity
Resilience
All DFS employees must adhere to the Department's Code of Professional Responsibilities and Ethics.
History
In 1970, a survey by the International Association of Chiefs of Police demonstrated a need for a statewide forensic laboratory system in Virginia. Two years later, an act of the General Assembly created the Division of Consolidated Laboratory Services (DCLS), which included a Bureau of Forensic Science. The new Bureau absorbed the Commonwealth's existing drug and toxicology laboratories in addition to providing other forensic services.
In 1990, the rapidly expanding Bureau was elevated to Division status. In 1996, the Division transferred from the Department of General Services (DGS) to the Department of Criminal Justice Services (DCJS). In 2005, the Division was elevated to Department status under the Governor's Secretary of Public Safety. DFS continues to provide comprehensive forensic laboratory services to over 400 law enforcement agencies in the Commonwealth, while remaining independent of any of them.
Milestones
1974

The Virginia Forensic Science Academy conducts its first session

1984

A Forensic Science graduate program at Virginia Commonwealth University (VCU) is established

1988

Virginia establishes one of the first Driving Under the Influence of Drugs (DUID) programs

1989

DFS earns accreditation from the American Society of Crime Laboratory Directors Laboratory Accreditation Board (ASCLD/LAB)
DFS is the first state laboratory to offer DNA analyses to law enforcement agencies, and the first to create a DNA databank of previously convicted sex offenders
Construction completed on a new Northern Virginia Regional Laboratory in Fairfax

1992

Virginia is a pilot state for a National DNA Databank (CODIS) and for the FBI's automated firearms comparison database (DRUGFIRE)

1994

A "cold hit" from the DNA databank results in a conviction, and Virginia becomes the first state to discontinue traditional serology in favor of DNA testing

1995

Construction completed on a new Western Virginia Regional Laboratory in Roanoke

1998

Virginia's DNA databank identifies a perpetrator in Florida for the first interstate "cold hit"
Construction completed on a new Central Virginia Regional Laboratory in Richmond

1999

Creation of the Virginia Institute of Forensic Science and Medicine (VIFSM)

2000

First graduating class of VIFSM
Construction completed on a new Eastern Virginia Regional Laboratory in Norfolk

2002

On November 13th, the DNA Databank records its 1,000th "hit"

2003

Effective January 1st, persons arrested for violent felonies/property crimes must submit a DNA sample upon arrest

2005

July 1st, Department of Forensic Science created

2009

DFS earns International accreditation from the American Society of Crime Laboratory Directors Laboratory Accreditation Board (ASCLD/LAB) and becomes one of the first laboratories to earn accreditation of its Breath Alcohol Calibration Laboratory
Construction completed on a new Northern Virginia Regional Laboratory in Manassas

2011

The Central Laboratory facility is renamed the Paul B. Ferrara building in honor of the late director
Familial DNA Search capability is added

2015

In April, the DNA Databank records its 10,000th "hit"

2016

Renovation and expansion project completed on the Western Virginia Regional Laboratory in Roanoke

2018

DFS renews its accreditation to the ISO/IEC 17025:2005 International Standard through ANSI-ASQ National Accreditation Board (ANAB)

2020

The Virginia Forensic Science Academy conducts its 100th session

2021

In September, the DNA Databank records its 15,000th "hit"