Forensic Science Academy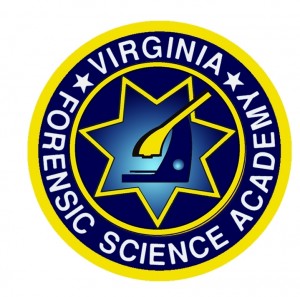 The Virginia Forensic Science Academy is only available to sworn and civilian personnel of criminal justice agencies within the Commonwealth of Virginia whose duties include the collection of physical evidence. It is designed to give these personnel the necessary training to enable them to fully utilize the expertise of the Department of Forensic Science (DFS). The nine week school provides classroom instruction by qualified forensic experts and numerous practical exercises and evidence collection demonstrations.
Students will have experience in simulated crime scenes and will be critiqued on the techniques used in physical evidence documentation and recovery.
Areas of study will include the following: photography, crime scene investigation, arson evidence, toxicology, forensic biology, latent print evidence, trace evidence, toolmarks, firearms evidence and bullet trajectory, crime scene sketching, evidence law, drug recognition, impression evidence and criminal investigative analysis.
Students participate in a vigorous academic program and are evaluated by class performance, written tests, application of recovery techniques, and homework assignments.
After successfully completing the Academy course, trained personnel will be able to:
Properly locate, recognize, document and collect items of physical evidence utilizing a systematic approach to crime scene investigation
Preserve items of physical evidence
Recognize the laboratory potential of examining physical evidence
Properly package and submit physical evidence
Application Process
Note: The Department of Forensic Science will supply all necessary equipment to complete the training. All travel expenses, to include lodging, are the responsibility of the student or their sponsoring agency. The Department of Forensic Science's Training Section Staff will work with you in making arrangements and attempt to reduce lodging costs. DFS is currently conducting two sessions per year, a spring session beginning in February or early March and a fall session beginning the Monday after Labor Day. A third session may be offered as funding and resources permit.
Candidates from Law Enforcement Agencies complete the online Academy application.
Candidates submit the Agency Head Endorsement which may be completed by a supervisor but must be signed by the agency head. Applicants with the Virginia State Police may submit the Agency Head Endorsement signed by the Division Commander. Directions for returning the form can be found at the bottom of the second page. Candidates will not be contacted for an interview until the Training Section receives this endorsement.
Candidates will be contacted to schedule interviews upon receipt of the Agency Head Endorsement.
New candidates will be interviewed.
The Forensic Science Academy Selection Committee meets to select candidates for upcoming sessions.
Selected candidates and their agency heads are notified. Candidates that are not selected will remain in the applicant pool for consideration for future Academy sessions. Applications are considered active for three years and must be updated at the end of the active time frame. DFS will notify candidates whose applications need to be updated.
Application
Applications are accepted through an online process. The application is lengthy and will require personal and business contact information, educational history information and law enforcement employment history. Please have that information ready before proceeding. Click the following button to proceed with your application.
Please click here to enroll in the Forensic Science Academy.
Once you have completed the online application, you will need to have your agency head or supervisor complete the Agency Head Endorsement to finalize your application.